Disclaimer: you might get sick of my face in this one, guys.
You can't say I didn't warn you!
So, I suck at taking photos; big time. But I suck even more at being in front of the camera. I am awkward and feel like a retard "posing"

(so to speak)

. And it makes sense, I mean, I am indeed awkward in person after all.
If you happen to feel the same way, here are 5 tips to master the art of taking self portraits!
1* I don't usually smile in photos, because I don't like the way I look when I do. However, I found an easy way to solve it: use someone else's smile!
You can do the same with any part of your body ... Well, pretty much, hehe.
2* If you feel uncomfortable posing in front of a camera, I recommend doing something awkward so that your weird self is not so much on the spot; get it? People's reaction to the photo will be more something towards "What the hell is she doing?!", instead of "What the hell is that awful forced pose?!". I'd much rather get reaction numero one, if you ask me :p.
AND use a photo editing program to add a hipster touch to them. I use Pixlr o matic.
3*
A self portrait should always depict your quirky personality; for that purpose, you can, for instance, snap your feet wearing mismatching shoes.
4* You and I know that animated gifs are really "in" in the blogging world. Jumping pics are so hackneyed! Go a step further, be original and go nuts. And why use Photoshop to create an animated gif when you can use a website which gives your photos a "cool" low-fi effect? Haha.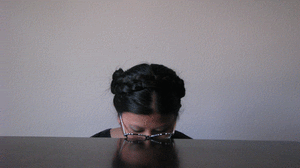 5* Lastly, and this should have been tip #1, make sure you use a tripod when taking self portraits (... and a camera, duh?). Tiny tripods come in handy, too; I use mine a lot.
If you don't have a tripod, rely on your husband/boyfriend/friend.
No hubby/boyfriend/friend? No problem, then, do the well-known hand-held trick!
If you actually want to take good photos, though, disregard all these tips and go check Elsie's blog or somethin'.
Have a great week, everyone! ;D